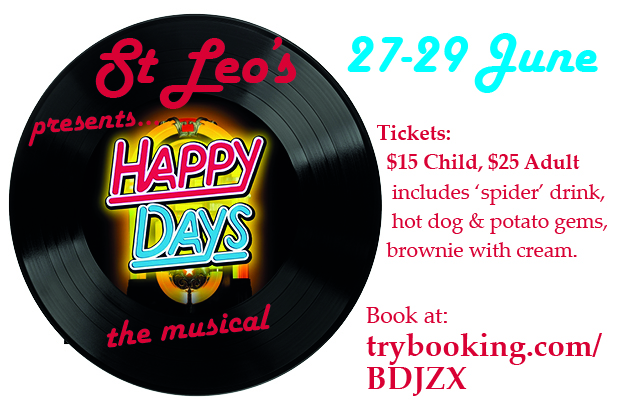 St Leo's is excited to announce that tickets are now on sale for our four performances for this year's musical, 'Happy Days'. The performances are:
– Thursday 27 June, 6.30pm
– Friday 28 June, 6.30pm
– Saturday 29 June, 12 noon and 6.30pm.
Tickets are limited as the production will be a cabaret style theatre-in-the-round, creating the feel of a 1950s milk bar. There will be four stages and the audience will sit at tables and chairs and be served snacks and drinks by our Hospitality students.
Tickets are $15 for primary school and St Leo's students and $25 for adults and non-St Leo's students over 12 years. Tickets also include a 'spider' drink, hot dog and potato gems, and a brownie with cream per person.
The performances will be held in the Our Lady of the Rosary (OLOR) section of The Light of Christ Centre (LOCC).
We hope to see you there for some '50s fun!
Book now at: trybooking.com/BDJZX