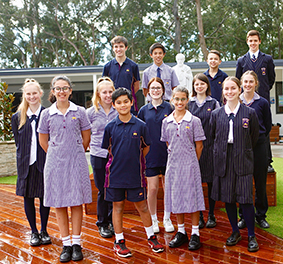 St Leo's is excited to announce a new, contemporary uniform to be introduced for 2020 which befits our state-of-the-art learning environment.
Our uniform plays a crucial role in representing the vision and values of the College. It provides a sense of cohesion and belonging, educational psychology and wellbeing, as well as identifying our College to the community. The St Leo's uniform has changed very little since the College first opened in 1952. Our new uniform has been designed with student comfort in mind using our PRIDE framework, with the hope that it will be worn as a badge of pride for many years to come.
Both comfortable and flexible, the new range features hard-working fabrics and styles that will suit each student's personal taste and body shape, including the introduction of optional trousers for the girls.
The new uniform will be compulsory for students entering Years 7 and 11 from January 2020, and other years will gradually transition to the new uniform over a period of three years. An information booklet including Frequently Asked Questions, was mailed to all current and incoming parents, or see the uniform page of this website for more details including our supplier.
It will be available for purchase form our supplier, Cowan & Lewis, from November 2019 (Term 4).