We are excited to welcome you to St Leo's Catholic College for 2022 and look forward to an amazing journey together over the next six years.
Orientation for Year 7 2022
The below letter was sent to all parents/carers of enrolled Year 7 2022 students on Wednesday, 10 November with details of Orientation sessions to be held on either 24 November, 1 December or 2 December based on which primary school students are coming from.
Orientation Letter sent 10-11-21
New Student Information Handbook – Year 7 2022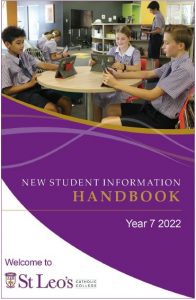 The above New Student Information Handbook for Year 7 2022 was distributed via email ahead of the Year 7 2022 Information Night on Wednesday, 3 November 2021. It includes key dates, information for the first day of school, stationery & technology requirements and a range of procedures, policies and other information important for new students and their parents/carers. Please take the time to read it carefully.
NOTE: If you missed the Year 7 2022 Parent Information Evening on November 3, the link to the recorded session and passcode were emailed to all Year 7 2022 parents soon along with Orientation letter (above). The information presented on the evening is however covered in the Handbook:
New Student Information Handbook – Year 7 2022
Key links and dates from the Handbook (please note the dates):
Most information for new students should be available above or in the Information Handbook, however if you have any further queries, please contact College Reception on 9487 3555 (8am-4pm school days).  Please note the College Office will be closed for the school holidays from Friday, 17 December 2021.
We look forward to seeing you on Monday, 31 January 2021!
St Leo's Catholic College