We are excited to welcome you to St Leo's Catholic College for 2022 and look forward to an amazing journey together over the next six years.
*** Year 7 2022 students start on Monday, 31 January, 8.30am at the Light of Christ Centre, via the Yardley Ave College entrance (Gate C). Please see the Information Handbook below for details including what to wear and bring. You will also receive an email for the College a few days beforehand to confirm the latest Covid-safe instructions for the start of 2022.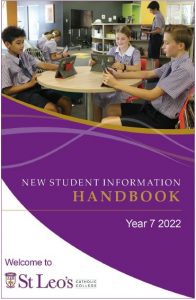 The above New Student Information Handbook for Year 7 2022 was distributed via email in early November 2021 Wednesday to parents of all Year 7 2022 students. It includes key dates, information for the first day of school, stationery and technology requirements and a range of procedures, policies and other information important for new students and their parents/carers. Please take the time to read it carefully.
Link to New Student Information Handbook – Year 7 2022
Key links and dates from the Handbook (please note the dates):
Most information for new students is available in the Information Handbook, however if you have any further queries, please contact College Reception on 9487 3555 (8am-4pm school days).  Please note the College Office is closed for the school holidays and will reopen on Monday, 24 January 2022.
We look forward to seeing you on Monday, 31 January 2021!
St Leo's Catholic College