Subject Selection Information for Year 9 2022
Deciding on Subjects
The three basic questions that students should ask themselves when choosing subjects are:
– What do I like?
– What do I need or want to know?
– What am I good at?
These are the key questions that should guide your subject selection process.
Course Information Handbook
Details of all courses offered at St Leo's for Year 9 2022 and Year 10 2023 are outlined in this handbook:
Year 9 2022 Course Information Handbook
.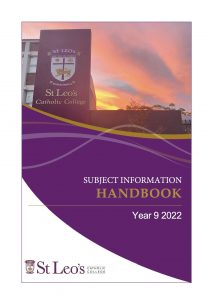 Further information
Please see your subject teachers or Heads of Department if you have any further questions about subjects in time to submit your preferences by Monday, 9 August (note revised date).