St Leo's Catholic College is a located on six hectares in the leafy suburb of Wahroonga on Sydney's Upper North Shore. We are just off the M1 Motorway exit, near the Pennant Hills Road and Pacific Highway junction, and a short walk from Waitara train station.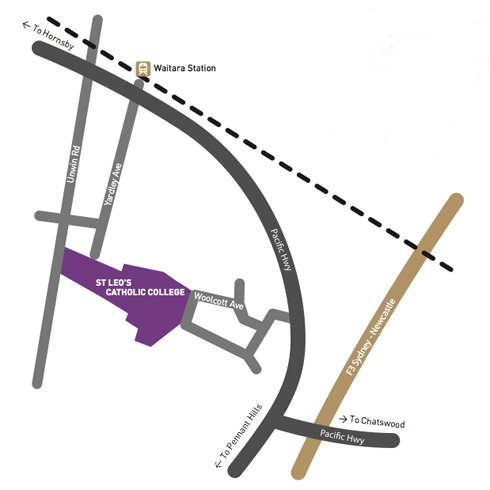 Transport Options
There are a number of options for students arriving at the College, including:
Train travel to Waitara station, then a short walk down Yardley Avenue, Waitara (Gate C)
'Kiss and Drop Zone' at the main entrance to the College in Woolcott Avenue, Wahroonga (Gates A/B)
'Kiss and Drop Zone' at the secondary entrance to the College in Yardley Avenue, Waitara (Gate C)
Bus to the top of Woolcott Avenue, Wahroonga
Bus to the bottom of Unwin Road, Waitara (Gate D)
For senior students driving to the College, limited street parking is available in or around Woolcott Ave, Yardley Ave or Unwin Rd
The College also has secure bicycle racks for students who ride to campus.
(For more detail, see our Interactive College Map)
Visit the Transport NSW trip planner or use the travel app of your choice to view the best options for your circumstances.
Free public transport (School Opal card) is available to students who live more than 2.0km straight line distance from the College, or at least 2.9km walking. Apply or update your details via the Transport NSW website.
Interested in enrolling at St Leo's?
Learn more about how to join the St Leo's community.
Learn More