We are excited to welcome you to St Leo's Catholic College for 2023 and look forward to an amazing journey together over the next six years!
Key Dates:
Orientation: Friday, 25 November 2022, 9am-2.30pm
Opal Card orders: before Friday, 16 December 2022
Stationery pack orders: before Wednesday, 22 December 2022
New uniform orders: before Friday, 24 December 2022
First day: Monday, 30 January 2023
Documents: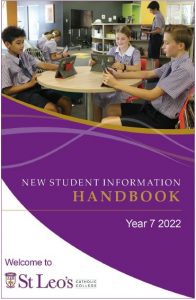 YEAR 7 2023 NEW STUDENT HANDBOOK. This was distributed via email to all new Year 7 parents on Monday 24 October. All information for starting at St Leo's is outlined in detail in this Handbook.
Slides from Parent Information Evening (Tuesday 25 October)
Handout from Parent Information Evening
Further Queries:
If you have any further queries, please contact the College by email (stleos@dbb.catholic.edu.au) or call 9487 3555 (8am-4pm school days). Please note the College Office is closed during school holidays from 20 December 2022 and will reopen on 23 January 2023.
We look forward to seeing you on Monday, 30 January 2021!
St Leo's Catholic College