Sport for Life Program
Students participate in a range of organised sporting events throughout the year offering high-quality sporting opportunities covering a wide selection of team and individual sports. Our weekly Sport for Life program for Years 7-10 is designed to encourage an appreciation for physical activity regardless of skill level or fitness.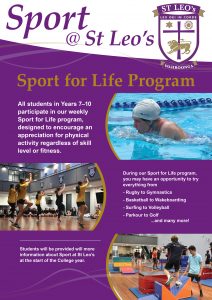 Representative Sport
St Leo's has a strong sporting culture and enjoys huge successes in representative sports. Students participate in a wide range of organised sporting events throughout the year against other Diocesan schools and in other individual competitions.
We offer a high-quality tiered sporting program covering a huge range of sports which is developed and run by specifically trained and dedicated teachers.
Our representative and high-performance sports programs allow talented athletes to progress to higher levels including regional, state and national level and international tours via the Combined Catholic Colleges, NSW All Schools and School Sport Australia competitions where we have had many representatives.
St Leo's currently has representative teams in:
Aerobics
Athletics
Basketball
Beach Touch Football
Cricket
Cross Country
Golf
Netball
Rugby Sevens
Rugby League
Soccer
Softball
Surf Lifesaving
Surfing
Swimming
Tennis
Touch Football (boys, girls and mixed)
Volleyball
Water Polo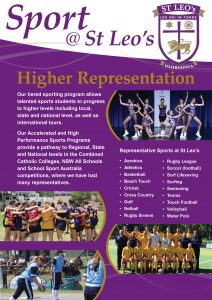 Liverpool FC International Academy
CALLING ALL FOOTBALL FANS! We are excited to be official partners with Liverpool FC International Academy!
A Liverpool FC Skill Development Centre right will be held right here at St Leo's along with a range of other opportunities being planned, exclusive to St Leo's students and our Priority Feeder primary schools.
Open to boys and girls aged from U6 through to U16, this unique 10-week football development program is delivered 'The Liverpool Way' through a player-centred coaching environment. Under the guidance of LFC accredited Academy coaches, the program includes world class online resources and is a true holistic development opportunity for players both on and off the pitch, teaching skills that can be used throughout their lives.
The program was announced last December with a jersey presentation by LFC International Academy to St Leo's in the presence of special guest, past student and professional player Lachlan Rose and some of our current keen footballing students.