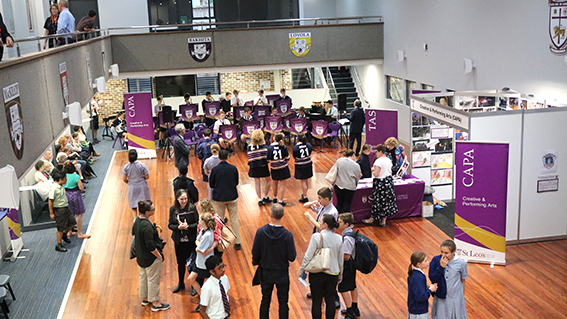 NEWSFLASH:  Save the date! Our Open Day for 2022 is set for Tuesday, 15 March 2022 – 4-7pm!
What to expect!
Earlier this year, all the way back in March, we were proud to showcase everything St Leo's has to offer at our annual Open Day & Expo.
Despite the rain, more than 1500 people attended, visiting 20 subject information stands and 15 different display, activity and performance sites spread across the College.
We are very lucky to have such wonderful facilities to showcase and such wonderful students – over 300 of whom so ably and confidently stepped up to their roles as performers, gate and stand attendants, and tour guides for the afternoon.
To all those who attended, thank you for coming. We hope you felt a strong sense of our St Leo's community – and look forward to you joining us in the future!
So lock in the date for 2022 – Tuesday 15 March from 4pm to 7pm here on campus. We hope to see you there!