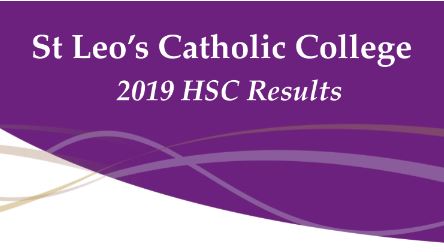 Congratulations to our Class of 2019 on their outstanding HSC results, which are a fine reflection of their effort, dedication and hard work. Along with their personal achievements in so many other areas, we are overwhelmingly proud of the well-balanced young people they have become.
Overall, our 2019 results placed us in the top 26% of NSW schools (SMH), with 46 mentions on the Distinguished Achievers List (achievement of Band 6) and first place in 10 subjects across the Diocese of Broken Bay.
Congratulations to College Dux Madeleine McMahon, who achieved an ATAR of 96.10, ranking her within the top 4% of the State.
Congratulations also to our HSC Showcase nominated students. Olivia Clay was nominated for ARTEXPRESS (Visual Arts Showcase), Zoe Peterson for SHAPE (Design & Technology Showcase) and Bede Patterson for ENCORE (Music Showcase).
It is very pleasing to see the our students excel across the wide range of subjects we have on offer, from traditional to VET subjects. We are very proud of you all!
Read more about our 2019 HSC results.