Preparing Our Students for the Future –
Learning Technologies
'We equip our students with the skills and attitudes to be future leaders in their fields.'
Technology is an integral part of daily learning at St Leo's, with individual student iPads, MacBooks and other learning technologies serving as important tools in developing critical thinking, creativity, collaboration and communication skills. Our experience has found that technology-enabled teaching and learning allows for more active engagement, it allows teaching to meet the student at their particular point of learning, and students are encouraged to advance their skills in a safe environment.
Overall, St Leo's is focussed on developing transferrable Deep Learning Skills that will equip all our students for the future by creating lifelong learners able to adapt to and challenge the world being constantly reshaped through advancing technology.
BYODD Program
St Leo's runs a BYODD (Bring Your Own Designated Device) Program which requires all students in Years 7-10 to have an Apple iPad, while students in Years 11 and 12 have the option to either retain their iPads or to change to Apple Macintosh laptops.
The St Leo's Learning Den
Our unique St Leo's Learning Den is a custom-built online learning platform on which students can record and track their progress in a range of areas, giving them learning ownership and a digital portfolio to take with them when they leave.
STEM at St Leo's
Science, Technology, Engineering and Mathematics (STEM) is a major focus at St Leo's, ensuring students have the skills they need to live and work in a globalised world. We have an interdisciplinary approach, where students apply STEM skills to make connections between school, community, work and the global enterprise. We work with a range of industry experts on real-world applications and challenge-based learning activities to also foster collaboration, teamwork and other essential skills while having fun.
We run a a large number of STEM co-curricular and extracurricular activities for students of all levels. Current opportunities and programs being run and further developed in 2020 include:
Minecraft Mondays – game-based learning platform
Code Camp World – free after school coding workshops
Yamaha Drones workshops
VEX Robotics competition
Merge Cube Augmented Reality/Virtual Reality learning & creation
Microsoft Student Training Credential Program
Adobe One Minute Video Challenge (see video below)
Below is a recent local news feature story on St Leo's STEM programs.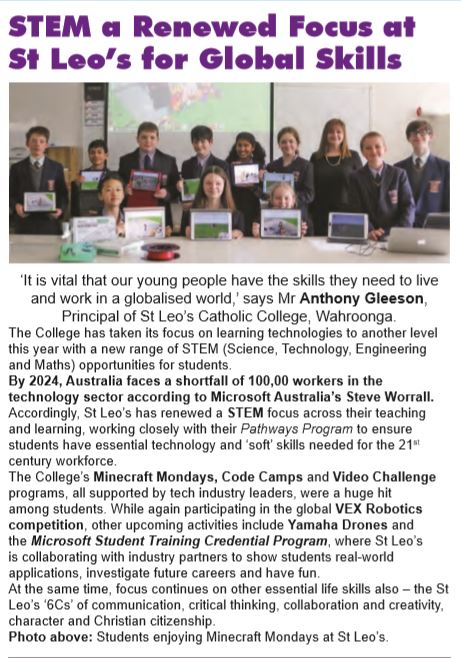 The Bush Telegraph, September 2020
Adobe One Minute Video Challenge 2020 Highlights
Pathways Program
Our innovative Pathways Program works with students and their families to navigate life beyond school, developing industry and higher education partnerships, and shaping new offerings and approaches to learning at St Leo's.
Our Pathways team work closely with each of our Key Learning Areas such as STEM to identify real-world applications of their learning and opportunities for students to understand more about future career opportunities.
Remote Learning at St Leo's
With schools forced to move to remote (home-based) learning in a matter of days as a result of the Covid-19 (coronavirus) pandemic this year, St Leo's is leading the way with innovative and engaging online lessons for students: