The full College uniform is compulsory for all students. Students wear the College Summer Uniform in Terms 1 and 4, and College Winter Uniform in Terms 2 and 3, as well as the College Sports Uniform on the days they have sport.
New uniforms introduced in 2020
St Leo's introduced new College academic and sports uniforms for junior and senior students in 2020. The contemporary look befits the state-of-the-art learning environment and meets the highest standards of comfort, flexibility and affordability. Reactions from students and parents were overwhelmingly positive.
Note that, as at start of 2022, all students have now now transitioned across to the 'new style' uniform and the 'old style' uniform has been entirely phased out.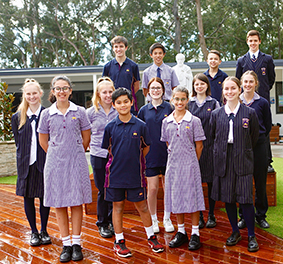 View uniform price list
ORDER ONLINE
View/download uniform requirement information for students


Uniform Supplier – New Uniforms
Brand new St Leo's College uniforms are available only from our suppliers, Cowan and Lewis in Turramurra (note we do not have a uniform shop on campus):
Cowan and Lewis
1315 Pacific Highway, Turramurra
Ph: 9449 9777
Fax: 9440 8931
Email: sales@cowanlewis.com.au
Cowan and Lewis website
Uniform orders can be collected from the Turramurra store (by appointment – see Covid note below), posted (at cost) or delivered to St Leo's College Reception during school terms (at no additional charge).
Secondhand Uniforms
The Uniform Exchange has a physical store in Pymble as well as an online store which buys and sells secondhand school uniforms. Buyers can search available items online by school. For sellers, there are no listing fees online, or they will sell items at their Pymble Exchange.
St Leo's is registered with sustainableschoolshop.com.au, an online trading platform for parents to buy and sell secondhand uniforms. The site also sells secondhand textbooks, musical instruments, calculators, etc.
Buyers can search for items for free by school, set up a regular email alert for a 'stocktake report' of St Leo's uniform items currently listed, or place a 'wanted ad' after setting up a free account. Sellers can list items for $1.50 (single items) up to $21.95 for unlimited items (12 month subscription). Interested buyers than contact sellers directly (similar to Gumtree or Marketplace).